Since Windows 8 is available, Microsoft changes our habits by integrating a completely new Desktop experience. For example, Microsoft deletes the Start Button in Windows 8… then put it back in Windows 8.1. Moreover, in this new version of Windows, you now have a completely new « Start Menu » with « tiles » (like in Windows Phone).
For many people, this new « Start Menu » was not very well welcomed. Besides, Microsoft makes this menu an essential part in Windows 8 because it was the « start » point after you logged in.
However, Microsoft (finally) listened to people and moved back. The new Windows 8.1 gives us back a « Start button » (not the same as in Windows 7) and enables users to choose if they want to have new Start Menu (aka. Metro Interface) as starting point or rather the old, good, strong… Windows Desktop ! 😉
How to boot directly to the Desktop or to the new Start menu in Windows 8.1 ?
It's simple. 🙂
Right-click on the taskbar (the bar where there are a few shortcuts and the clock…), 😉
Select « Properties » in the contextual menu,
Go in the « Navigation » tab.
You can check the fourth box depending on the configuration that you want :
Checked – You will get the « old classical » Windows Desktop after you logged in,
Unchecked – You will get the « new » Windows Interface (aka metro UI).
Done. Restart your computer to try ! 🙂
How to automate this configuration thanks to a Group Policy ?
By using RegShot, it's simple to see what's the registry key that has been modified during this procedure.
When you check/uncheck the box, the key registry that has been modified is the following :
Registry key: HKEY_CURRENT_USER\Software\Microsoft\Windows\CurrentVersion\Explorer\StartPage
Value: OpenAtLogon
OpenAtLogon will be at « 0 » for booting directly to the Desktop and to « 1 » to the new Windows 8 Start Menu.
In an enterprise context, you won't enable or disable this checkbox manually. But Microsoft don't create a dedicated GPO for manage this configuration. So, you have to create yours.
Open GPMC.msc and create a new GPO
Go to « Computer Configuration, Preferences, Windows Settings and then Registry ».
Then, create a new registry key tweak as following :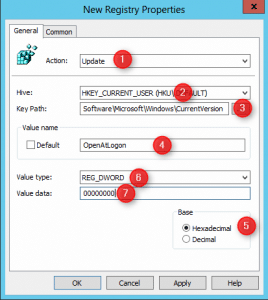 Put the path to the key OpenAtLogon, select REG_DWORD and then set the value data :
0 to boot directly to the « old » Windows Desktop ;
1 to boot to the new UI Windows interface.
By configuring this GPO, you will force the configuration for your whole organization. However, you can select in « Common » tab the option « Apply once and do not reapply » if you want to let users choose the configuration that they want.
Conclusion
Remember. This configuration won't delete the new Windows interface or new Start Menu. It's just a way to start your computer directly in the Windows Desktop to prevent from clicking each time on « Desktop« .
The new Windows interface remains available by pressing the Windows key or by moving your mouse in the top-right and top-left corner and selecting « Start« .
Hope this helps 🙂